The phenomena that is Netflix is truly a modern day wonder. Kids in the 80s and 90s, or how we are referred to today as Gen X and Y, or colloquially and more popularly, the Titos and Titas of Manila, would agree that it has changed the landscape of Philippine television more dramatically than Helen Vela or Judy Ann to say the least. It's amazing how far we've come from the Betamax era in the 80s to the VHS, Laser Disc, satellite dishes and cable takeover in the 90s. Wouldn't it be interesting to have both the past and present be conveniently available to us today like how Marty McFly rode that hover board in his fancy, self-tying Nikes from 1985 to 2015?
Well, the good news is, we don't need a DeLorean time machine or any genius doctor to make this happen for us today. If Cardo Dalisay made it, why can't John Puruntong and the rest of these guys, right? Paging Netflix!
Palibhasa Lalake (1987-1998)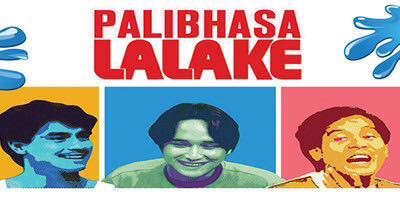 Tuesday nights in the 90s would not be complete without the water-splashing and high-kicking bunch of Ricky, Joey, Johnny and Tikboy. What's interesting about this show and what makes it click was how everyone behind the cameras organically blended in with the cast like they were part of a live audience which rode along the feels of "Whose Line Is It Anyway?". Not to mention their signature antics; those camera tricks that were so dumb, they were hilarious! Remember those magic hands which never left the frame even after their perceived owner changed blockings? And how about the traditional water splashing of guests which they cleverly saved for the end of the show so that we were forced, well, not much against our will, to sit through the entire episode. It was a very smart way to dish out a sitcom because it is, after all, "situational comedy". The cherry on top was the very supportive supporting cast in Gloria Romero playing Tita Minerva, a drunkard widow who always carried a bottle of Tanduay or Ginebra. Amy Perez as the girl next door, Amelia, providing some propriety to the mayhem plus the "love team" angle, though very subtly, and the talented Ms. Patag who played Tita Minerva's British-English speaking delusional daughter, Cynthia, whom the boys always picked on, it cracked me up. All. The. Time. All of these made up the perfect mix of Palibhasa Lalake.
Oki Doki Doc (1993-2000)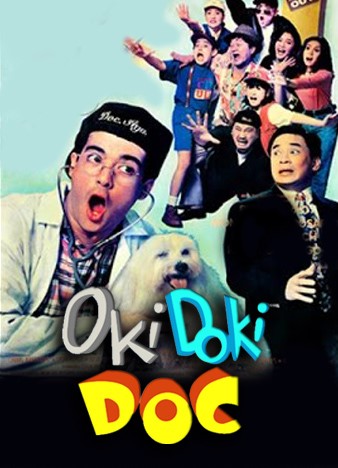 This show arguably has the best and most catchy theme song. And you start singing here. Unlike other sitcoms, Oki Doki Doc focuses and exploits the kilig angle from the love team of Aga Muhlach who plays Doc Aga, a vet, and Agot Isidro who plays Alex. Remember Sugar and Cupcake? They gave us sugar rush and their love team worked so well you totally forget Agot played Aga's disapproving older sister in Star Cinema's erstwhile MMFF entry, May Minamahal. Complementing their love team was the love-hate team of Jimmy Santos who played Doc Aga's sidekick, Gudo and the late, great Babalu who played Alex's father, Popsie. It was painfully funny how Popsie, in his desperate attempts to protect Alex from Doc Aga always ended up in Gudo's loving arms in a headlock.
Home Along Da Riles (1992-2003)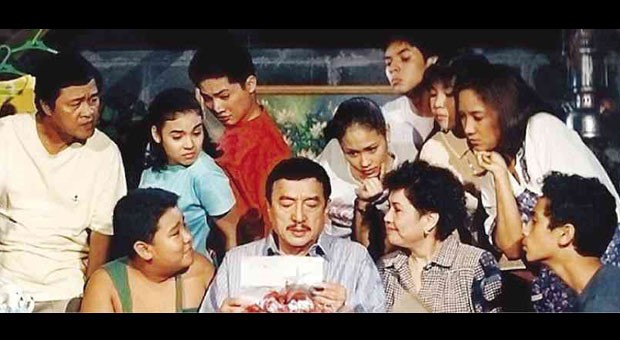 Home Along Da Riles was a clever play on the phenomenal blockbuster, Home Alone, about an unassumingly sharp-witted young boy who was left home alone for the holidays, Kevin McCallister. Home Along follows a modest elderly man, Kevin Cosme (another funny play on then top leading man, Kevin Costner of The Bodyguard) played by no less than the King of Comedy, Dolphy, and his funny misadventures living in a home which stood along, well technically, beside the railway tracks. The charm of Home Along Da Riles, aside from Dolphy himself, was in its strong family orientation plus other palpable references to different positive Filipino values. It was very relatable. Kevin was ably supported by his children, Bill (Smokey Manaloto), Bob (Gio Alvarez), Bing (Claudine Barretto) and Baldo (Vandolph Quizon) and then later on, Babalu who played his menacing half brother-in-law, Richy. Worthy notables were Nova Villa who played Kevin's love "disinterest" Ason and office folks, Cita Astals as Hilary (another play on an American personality, Hilary Clinton) and Bernardo Bernardo as Steve who provided much of the comic relief. What a ride!
TGIS (1995-1999)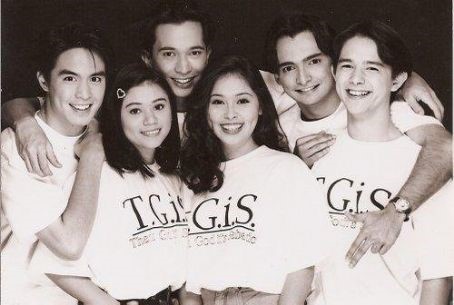 Before KathNiel, JaDine and LizQuen, there was "Peachy and Wacks", played by Angelu De Leon and Bobby Andrews. TGIS started the late Saturday afternoon habit and our parents can't thank God, their lucky stars plus the stars of TGIS enough for making us stay indoors in the 90s. TGIS started the teen-drama genre in the Philippines which rode along the success of Beverly Hills 90210 and never looked back.
Gimik (1996-1999)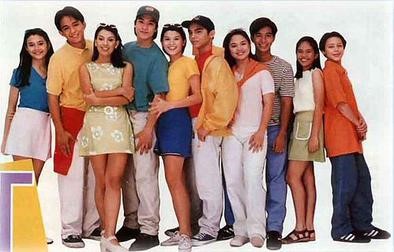 Jumping on the teen-drama bandwagon, this show brought along its A-game plus strong pairs of love teams which stood out individually. Each had its strong following and a unique storyline between them; there was one for everyone. Ricky (Rico Yan) and Dianne (Judy Ann Santos) as the star-crossed lovers, Gary (Diether Ocampo) and Gina (G Toengi) as the "mature" and sexy couple, Brian (Bojo Molina) and Melanie (Mylene Dizon) as the wholesome boy and girl next door and Joey (Marvin Agustin) and Essie (Jolina Magdangal) practically playing themselves, they were naturals.
Tabing Ilog (1999-2003)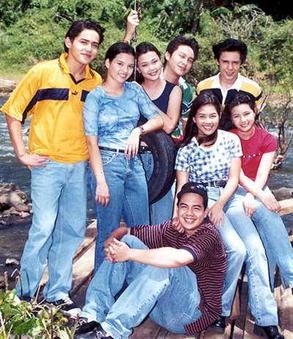 ABS CBN couldn't have used a better theme song (Tabing Ilog by Barbie Almalbis) to complement that timeslot. It aired after ASAP on Sundays which was, for some reason, the slowest and most relaxing part of the weekend in the 90s, it felt like you were entering the twilight zone where everything moved in slow motion. Interestingly, Tabing Ilog doesn't shake things up and just goes with the flow, no pun intended, and dishes out a slow-paced storyline, it had us begging for some more. It spun-off Dawson's Creek and took teen-drama to the next level what with, even then, the talented John Lloyd Cruz who played Rovic and Kaye Abad who played Eds providing the cry, I mean, fire power with much support from the rest of the cast, Badong (Paolo Contis), George (Jodi Sta. Maria), James (Partrick Garcia), Anne (Paula Peralejo), Corinne (Desiree Del Valle) and Fonzy (Baron Geisler).
Ang TV (1992-1997)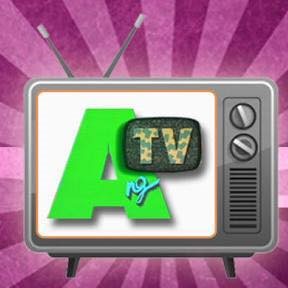 4:30 na! Ang TV na! Oh they owned the 4:30-5PM time slot, it would be interesting to see how high its ratings reached during its heyday. It used a very simple formula, tried and tested: A talent show. Except that Ang TV took it a notch higher by getting both cute kids and good looking teens to star in the show. So you see what they did there was they stretched their average viewership age to at least 10 years more compared to if they had stuck to casting either just kids or just teens. Smart eh? So, who was your favorite? Come on, everyone has a favorite. Oh and that intro was just so iconic, right? Never mind that the theme song was rehashed.
John en Marsha (1973-1990)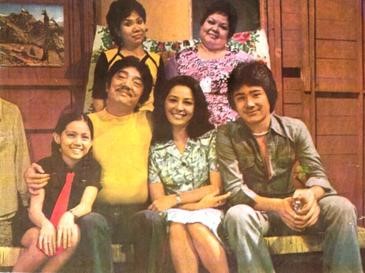 No, I'm not gonna start with "Kaya ikaw, John, magsumikap ka!" Wait, what? Well, it's too iconic to leave out anyway. John en Marsha was the local Cosby Show. It is an icon in Philippine comedy. True to a Dolphy starrer, it was strongly hinged on positive Filipino family values and effectively exploits the son-in-law/mother-in-law love-hate relationship between John Puruntong played by Dolphy and the iconic Donya Delilah played by Dely Atay-Atayan. But what takes the cake is the father and daughter tandem of John and "dumb brunette" Shirley, perfectly portrayed by Maricel Soriano, no offense meant. I think it was how they effectively injected subtle situational comedy in the storyline that made John en Marsha click and last sooooooo long. Like how Shirley ended up in Medical school despite being intellectually challenged, or how she was perennially hounded by her suitor, Isko, played by Brod Pete, who, much to his disapproval, referred to John as "Daddy" as if he and Shirley were MFEO (made for each other). These were perfect start off points to more comedy and it exploits them effectively. In the land of comedy, John en Marsha was the King's lair.
Which of these do you miss? Tell us below!