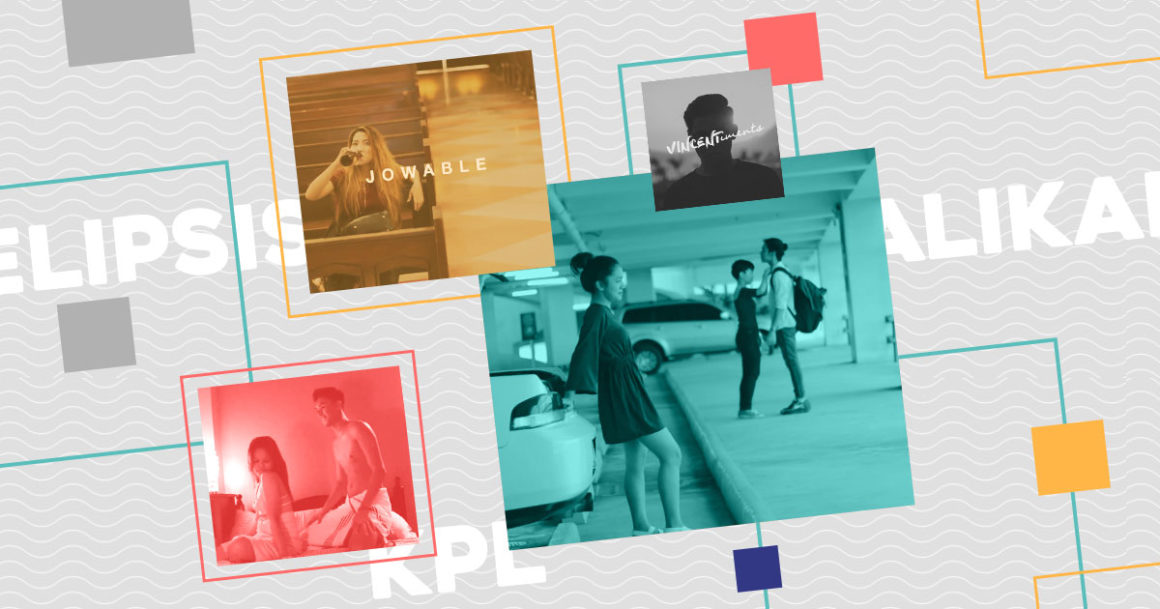 You might have seen the Facebook page VinCentiments floating in your timeline for a while now. Who are they? Why are their videos so relatable? Why are their films so nice?
VinCentiments is the official Facebook page of community theater group SAWAKAS. They create short films written and directed by Darryl Yap with Vincent Asis as the cinematographer. Their short films are simple and are 5-minutes long but it has earned millions of views and thousands of shares; with scenes and scripts that successfully mix hugot (sentiments) and real life, it's easy to know why.
This production group is proof that sometimes you don't need extravagant special effects, good looking actors, and a great set. If you're a filmmaker, you just need a well-thought out script and content, and a diverse set of characters who can act as if a camera isn't trained on them.
If you have no idea who or what VinCentiments is, here are a few of their best films:
Jowable
One of the more popular VinCentiment short films is 'Jowable', a story that's part of their Agaw-Eksena project. It's the video that propelled them to internet fame. 'Jowable' is about a girl who boldly comes to church and starts questioning why she's single. If you're single and is on the look-out for that special someone, you might relate!
DPDPDP (Deserving Pero 'Di Pinili Dahil Pangit)
Flashback to the time when you were courting this beautiful girl and she turned you down because she thought you were, well, something less than beautiful. This particular short film was filmed and edited within 6 hours, proving once again that as long as you have a great actor and an even greater script, you have enough. This film should teach everyone a thing or two about how looks will fade one day but it's the heart that stays forever.
Perstaym | Taympers
Rated SPG! This isn't the original upload, the team had to re-upload it minus lines that apparently got them in hot water (hint: it included a religious group). The story is about a couple who will be having sex for the first time, complete with rented motel and video tutorials. Drive down memory lane and awkwardly reminisce your first time.
Mga Bagay na Hindi Dapat Pag-Usapan
The pain of a break-up is revisited in this short film. Although the whole sequence was shot from only one camera angle and had only two characters, it's one of the most memorable (and sad) VinCentiments film. The lines were sharp and the story well written, and if you've ever been through a horrible breakup, it might even make you cry.
Ellipsis
'Ellipsis' tells about the pain of moving on from a relationship. The wound is fresh, the emotions are raw, and the acting deserves a standing ovation! VinCentiments struck a hugot vein with this one, after all, at least half of the millennial generation is stuck in this particular phase.
Balikan
They've got short films about couples breaking-up, a guy who's been turned down by a girl, and a girl tired of being single, now how about what happens after a breakup? 'Balikan' shows the aftermath of a relationship when all there's left to do is to return each other's stuff and try not to cry. The perfect mix of hugots and seriousness in this film helps in keeping those tears (and memories) at bay.
Elevator
Although this one runs longer than the rest of the films, it's equally as entertaining. 'Elevator' is the ultimate hugot conclusion to all the released Agaw-Eksena films and is also the teaser for 'Jowable 2' (which will be released on August 8, by the way). The one-liners in this one are so quotable they deserve to be your mobile wallpaper.
KPL (Kung Pwede Lang)
Ever been at the receiving end of your professor's oftentimes nonsensical lectures? How often did you want to talk back and make your point but didn't? KPL demonstrates what would happen and what would fly out of your mouth if you ever have the chance to talk back. This is their most recent upload and is a part of their new era of videos which doesn't focus on love and relationships.
What's your favorite short film from VinCentiments? Share it with us below!