LANY Songs
We Can't Wait
to Hear Live
By Karina Sitaldas

LANY (pronounced Lay-Nee) was not too long ago known by only Indie Music fans — that is until they came to the Philippines for Wanderland this past March. They've since launched their debut self-titled album and gained a significant amount of success not only in the country, but around the world; you literally get into your car, turn on the radio, and the chances of it being a LANY song are pretty high. Their music is a breath of fresh air when it comes to the current music scene. LANY's synth-driven sound is one that's so raw and so distinct, that you wouldn't be able to listen to just one of their songs and stop; you'll have them on repeat from the very first song that you hear.
Lucky for us, they're going to be coming back to the Philippines in August and they'll be playing in a bunch of Ayala Malls: Glorietta, Greenbelt 5, Alabang Town Center, Market! Market!, and Trinoma. Here are 8 songs that we can't wait to hear them perform live!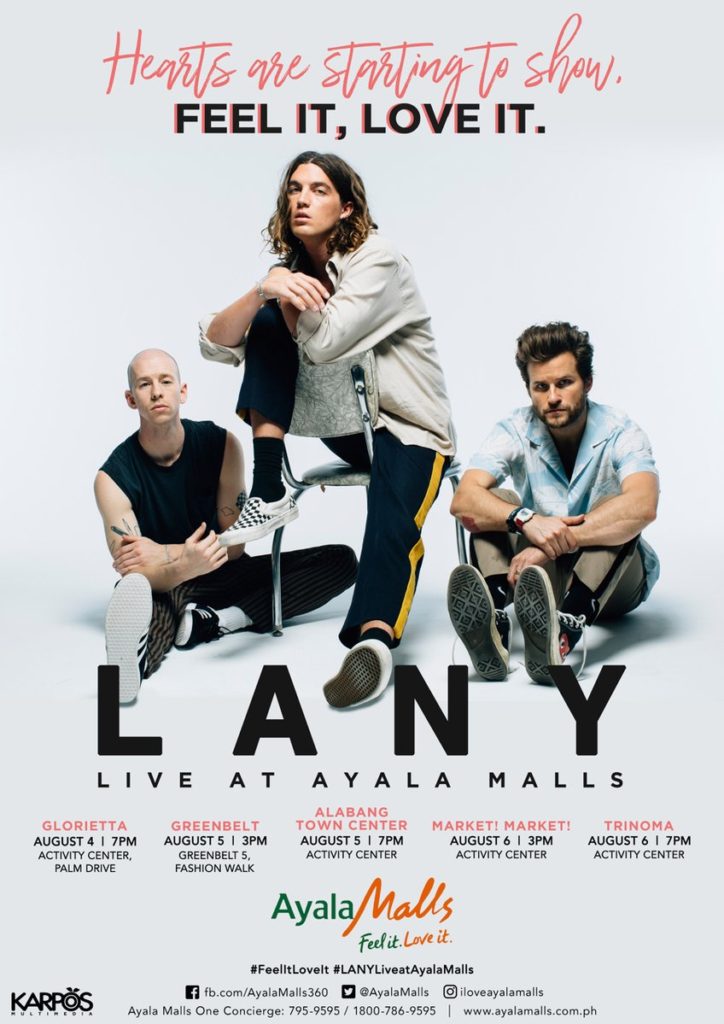 8. Flowers On The Floor
This is one from their new debut album; that one that makes you just wanna give the entire band a giant hug. This is a fun indie electronica song jam out to – but beneath the beat are lyrics that dwell on sadness and ignored efforts. It tugs right at your heartstrings — a common theme throughout the songs in this album.
7. Walk Away
Walk away highlights the misfortune of being able to walk away from love so easily, but the desperation of not wanting to be that way. Like always, such strong feelings, such raw emotions. Imagine how much more emotion we'll see live.
6. Current Location
Anyone that has ever had to deal with a long distance relationship or being away from their partner will feel all the feels with this one. Is it worth keeping the relationship? Would the distance cause more of a burden than love? Is she even going to want him still when she gets back?
5. The Breakup
LANY's album "LANY" highlights the thoughts that take place before a break up, and this song perfectly ties it all together. "It's never the same love after the breakup." We can't say it's not super sad, but we also can't say that it doesn't have any truth behind it.