8 Disasters (Real or Fictional)
and How Japanese Design
Can Save the Day
By Patricia Calzo Vega

The Japanese have always been fastidious when it comes to design. Whether it's a traditional craft passed on from one generation of artisans to the next, a hyper-efficient technological innovation, or a quirky item that seems little more than a novelty, Japanese products are known for its attention to detail and its user friendliness.
The Japan Foundation's "Japanese Design Today/100," currently on display at the Metropolitan Museum of Manila, presents 100 products that embody the country's design philosophy. One of its adjunct programs on designing for disaster reiterated the importance of context and user experience in product design.
With that in mind, we explored the exhibit for tools that would avert real and fictional crises.
8. Junior High death match (2/100, Sori Yanagi stainless saucepan)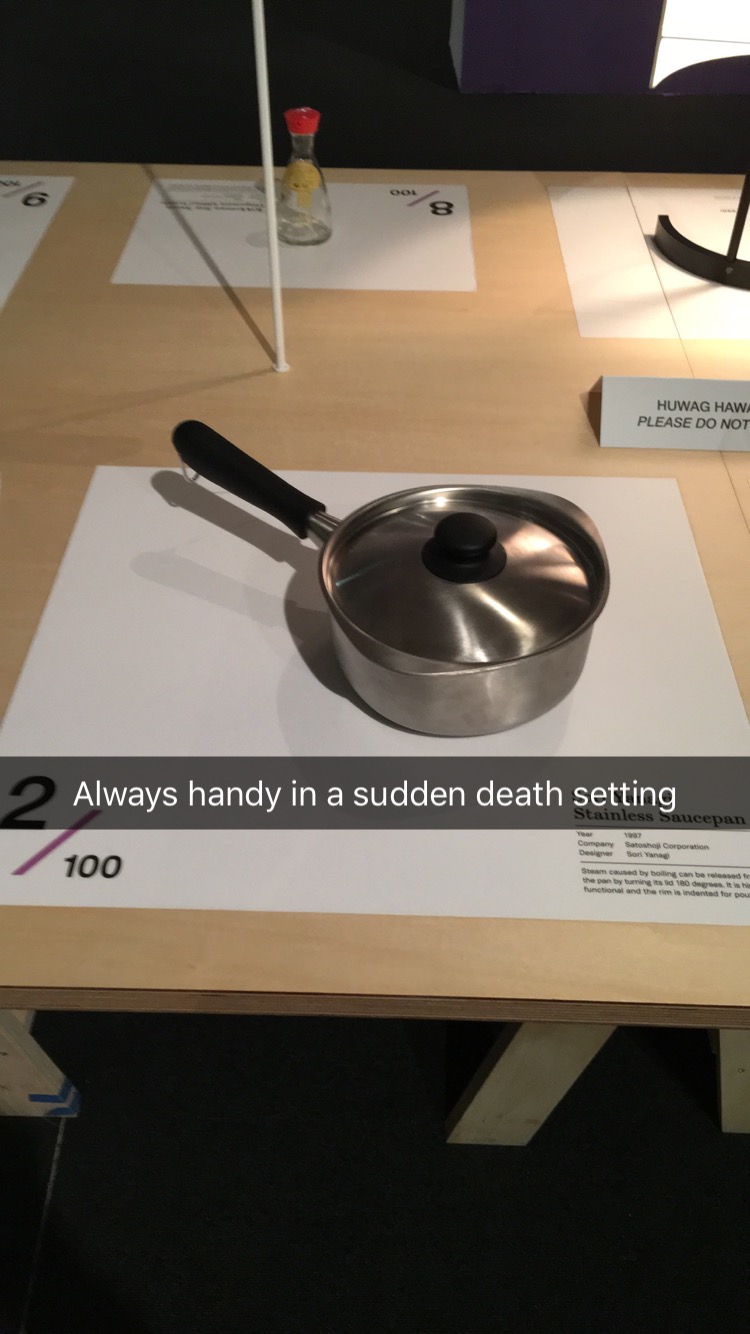 In the film adaptation of Battle Royale, protagonist Shuya Nanahara began the games armed only with a pot lid and somehow managed to survive. An entire saucepan gives you better protection: use the pan as a club and the lid as a shield. This particular saucepan was included in the exhibit as an example of user-friendly design: turning the lid 180 degrees releases steam from the pan.
7. Soy sauce spillage (8/100, Kikkoman Soy Sauce dispenser 150 ml)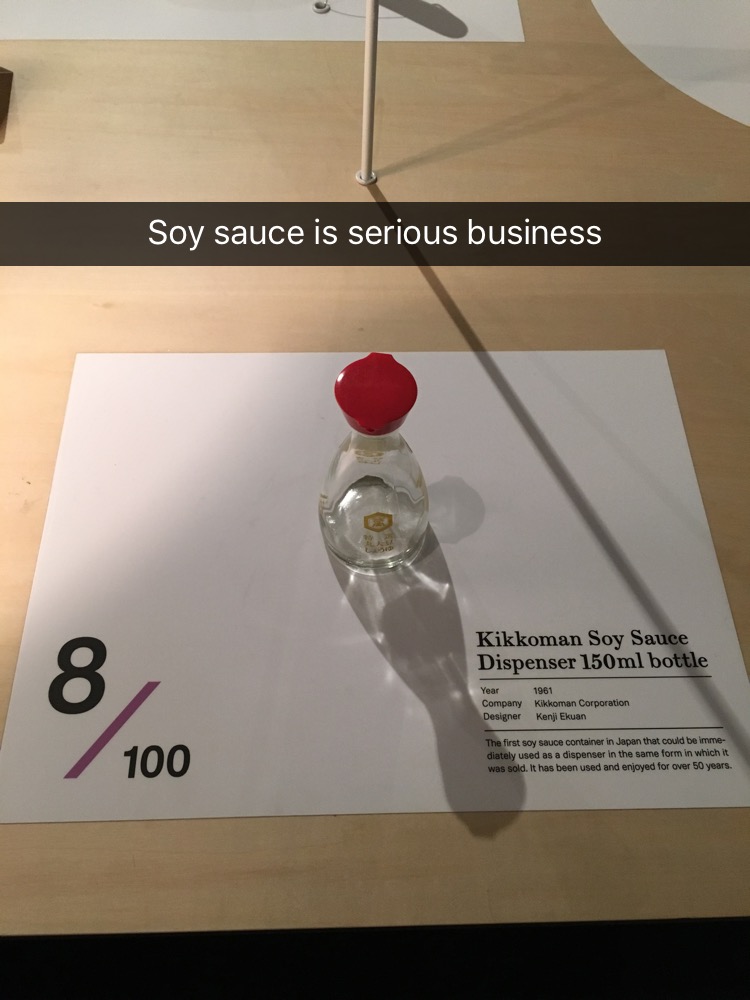 The Japanese take soy sauce so seriously, there are not one, but two, exhibit items dedicated to the condiment. The Kikkoman dispenser was the first mass produced container that allowed customers to pour directly from the bottle without over spilling: a victory for fastidious eaters who prefer food lightly seasoned and tablecloths pristine.
6. Pre-payday hunger (38/100, Cupmen 1 Hold on)

Counting down to payday often feels like a countdown to proper sustenance. If there's anything worse than eating cup noodles, it's eating undercooked cup noodles. Cupmen holds down the foil flap and changes color to indicate when the noodles are ready-to-eat. It's in the shape of a man holding on for dear life because corporate slaves have to be reminded of this everyday.
5. Rainy days and Mondays (50/100 Water-Repellent Furoshiki "NAGARE")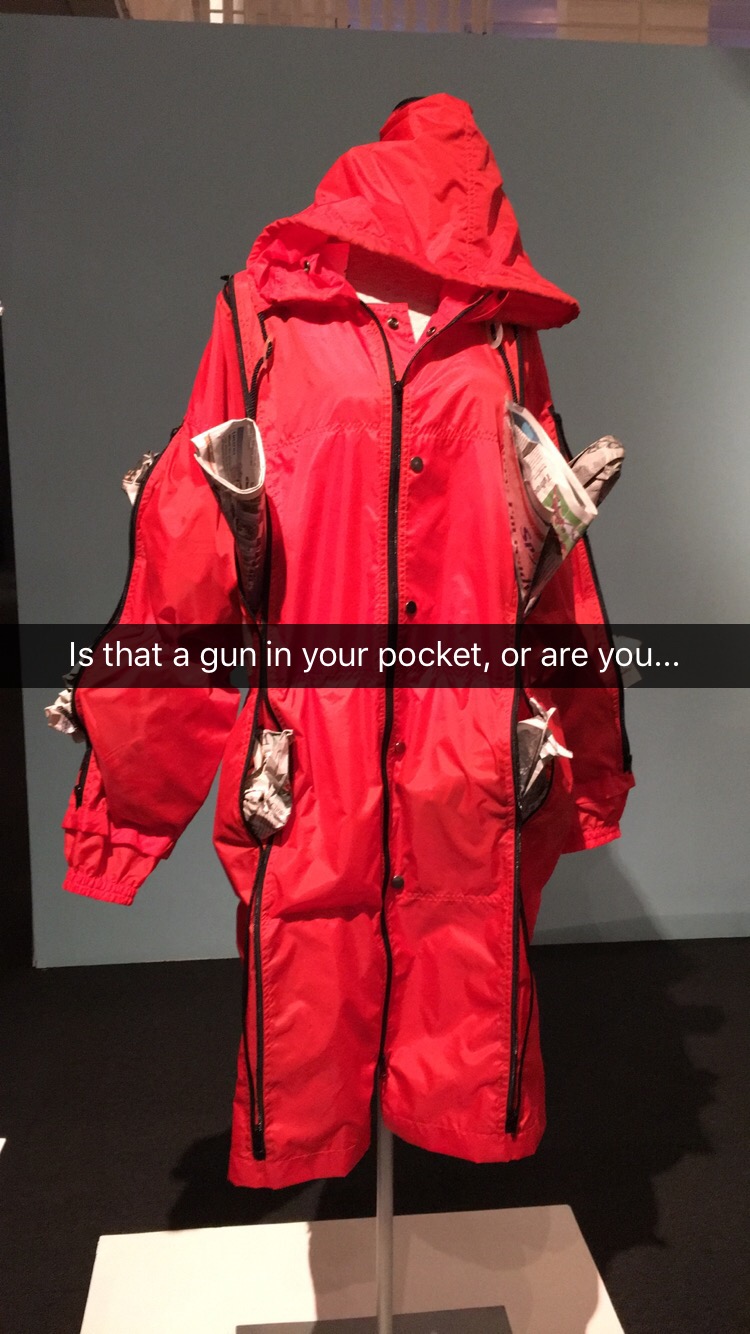 The traditional furoshiki is used to wrap presents, bento boxes, or anything else that needs to be lugged around. Typical cloth ones won't offer any protection from sudden thunderstorms, but the "NAGARE" is so waterproof it can be used as a makeshift bucket to catch 10-liters worth of ceiling drip!
4. Fashion emergency (53/100 132.5 ISSEY MIYAKE "No. 1 Dress")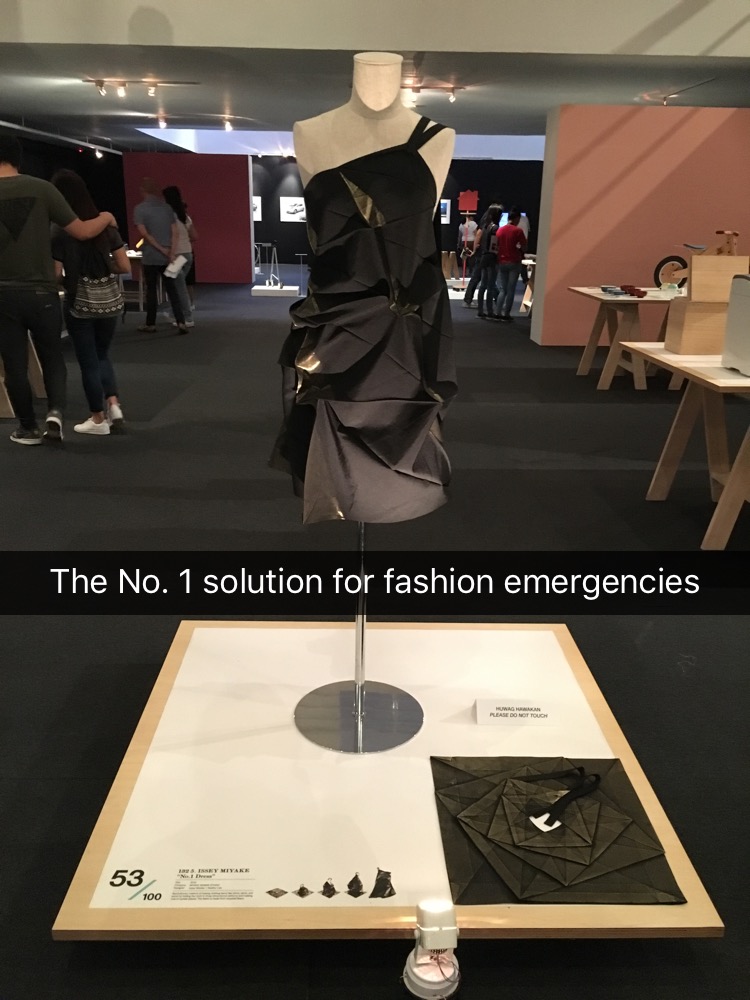 In a perfect world, every fashion forward female will have an artfully folded designer outfit that can be stored in an office bag or desk drawer and whipped out whenever the occasion calls for a showstopper of a dress.
3. Living in the streets (FINAL HOME "HOME 1")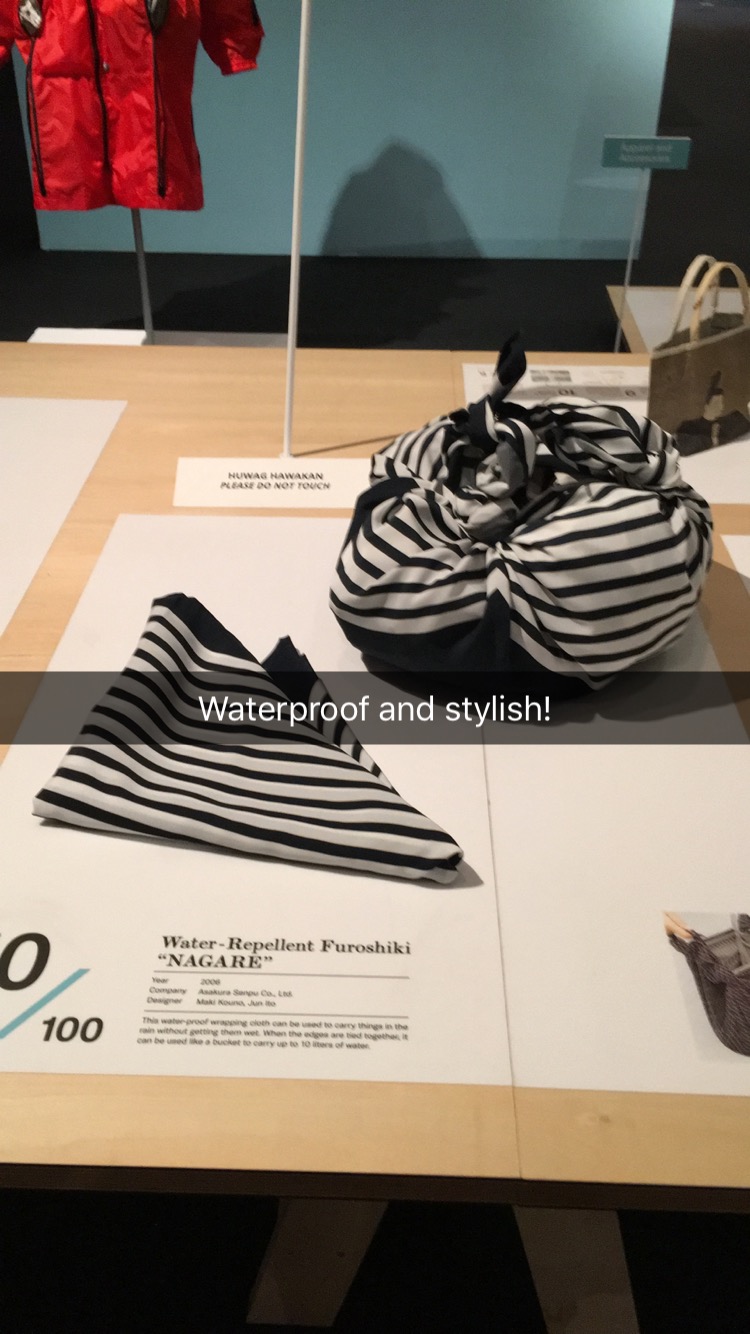 This coat was designed with the homeless urban poor in mind: it's warm, water-resistant, and has enough pockets so that a person can carry all their worldly possessions. Just make sure to double check the pockets for illegal substances, this coat isn't bulletproof.
2. Typhoon and tsunami evacuations (87/100 Splash-proof Hand Grip Type Megaphones)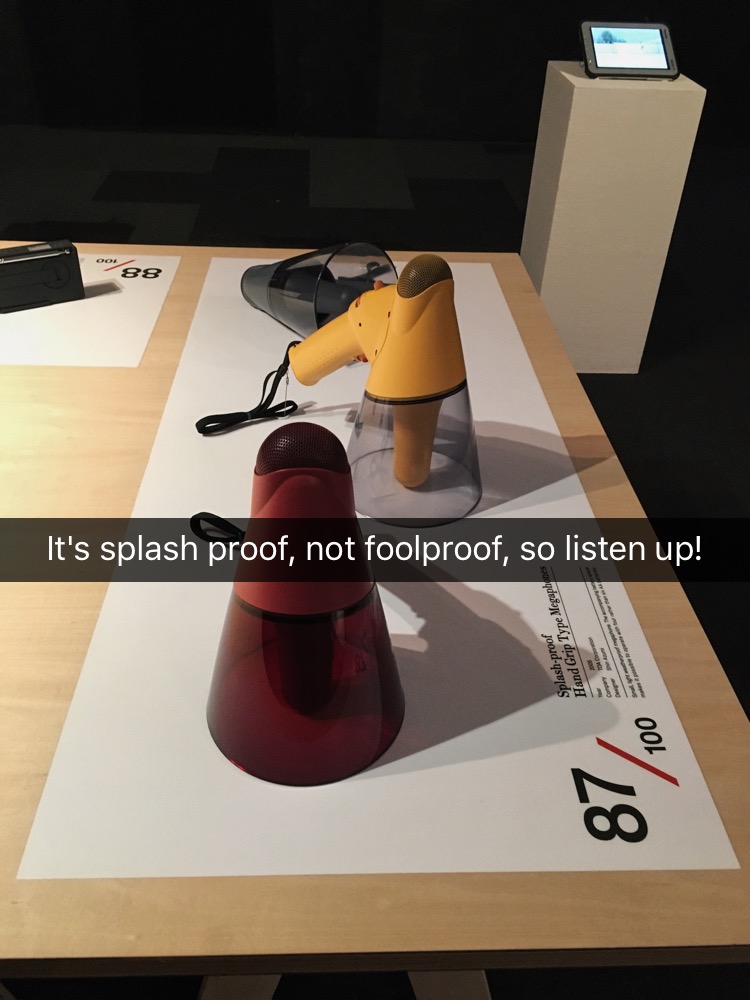 This one's for disaster responders: a weatherproof, battery-saving megaphone that will amplify your instructions for the community to get the hell out of dodge and into a safe place. Sensitivity training and debriefing not included.
1. The Big One (89/100, TATAMET BCP)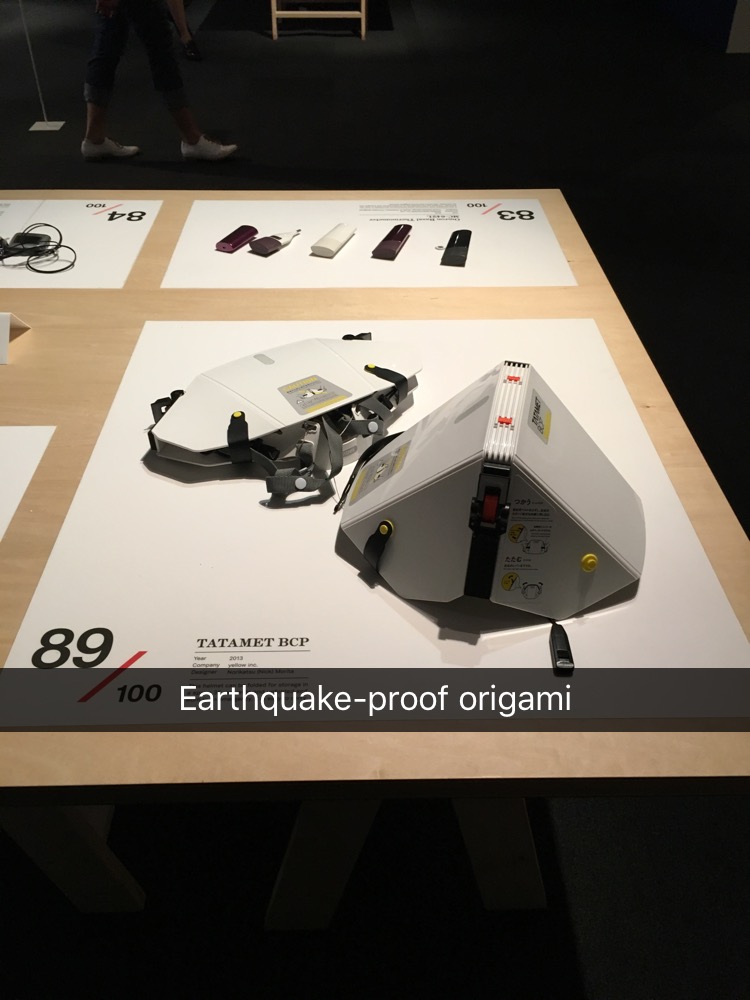 Trust the country with the most earthquakes to develop a helmet that's foldable for easy storage. Every go-bag should have one of this: it will help you survive falling debris and make your way to the nearest evacuation site. But since we don't have mass-produced storable helmets in our country, let's at least make sure that we duck, cover, and hold. (Maybe we can hyperlink MMDA shake drill site if it's updated).
All photos by Patricia Vega. "Japanese Design Today/100" runs until August 19 at the Metropolitan Museum of Manila.
Can you think of other nifty Japanese designs for emergencies and disasters? Let us know below!