The Philippine Massacre Movies Story
(God, That Was 20+ Years Ago)
By Eldrin Veloso

Remember a time in the past when storied killings were turned into slasher films, and they worked the box office? People were drawn to see the little nuances (oftentimes, inferred and fabricated) in these massacres that they won't be able to read in the papers.
But that was when the line between real life and based on real life was still clear. The 90s saw the surge of these films based on true massacre cases. There's that one directed by Carlo J. Caparas and starred by Kris Aquino. Then there's that other one directed by Caparas and starred by, uhm, Aquino. Oh, and there's the one not directed by Caparas and, ok, starred by Aquino, too. Actually, Aquino starring or Caparas directing a certain The First-Name Last-Name Massacre Story (Plea to God) is the film equivalent of 1234 as a passcode.
Nevertheless, let's look back at that cinematic period with these 8 massacre films—a period that might inevitably come back.
8. The Vizconde Massacre Story (God Help Us!)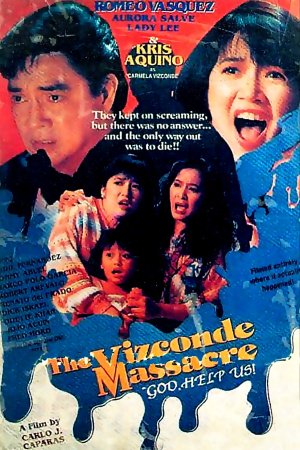 1993
This film probably started the massacre era in the 90s. Directed by (you guessed it) Carlo J. Caparas and starred by (yep) Kris Aquino, this film reenacted the events surrounding the multiple homicide case of Vizconde family.
Aquino played 19-year old Carmela who was raped then stabbed 17 times. Her mother Estrellita (played by Aurora Salve) and her 6-year old sister Jennifer (played by Lady Lee) were stabbed 13 and 19 times, respectively. During the time this film is being made, no major developments have been discovered since the killings happened in 1991 and Caparas offers this film as a support to the family, hence the title.
7. The Untold Story: Vizconde Massacre 2 (May The Lord Be With Us!)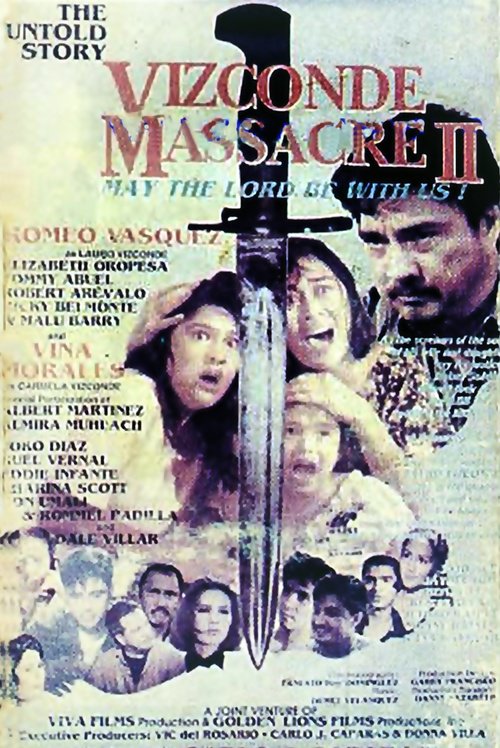 1994
Yes, there was a part 2. No, it's not another set of Vizconde killings (thank God!). And no, it wasn't good.
When The Vizconde Massacre Story made so much money in the theaters, Caparas decided to make a sequel in the guise of exposing an 'untold chapter' based on new evidence in the then-ongoing case.
So, it resulted to this flop sequel. While Romeo Vasquez reprised his role as family patriarch Lauro Vizconde, Aquino did not; the role of Carmela was played by Vina Morales.
One would think that Caparas would do another sequel when Jessica Alfaro came out and accused Hubert Webb, son of former senator Freddie Webb, as a suspect. But maybe even he himself got tired of the lengthy titles.
6. The Myrna Diones Story (Lord, Have Mercy!)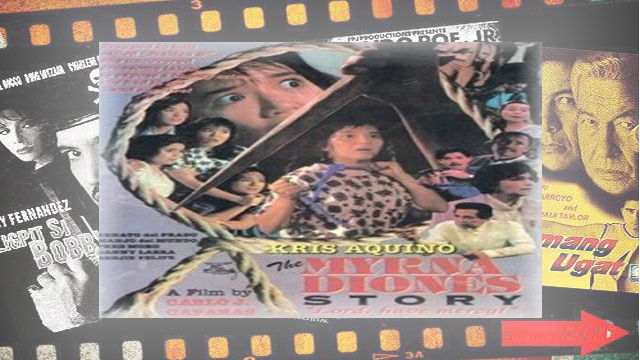 1993
The third collaboration of Massacre King and Queen, this Caparas film tells the story of 14-year old Myrna Diones (played by Aquino) and how she narrowly escaped death in the infamous brutal massacre that resulted in the death of her sister and two cousins. She lived to testify against the five policemen that committed the crime—who hacked Diones and her companions in the head several times with a hammer, stabbed them repeatedly, and threw them over a cliff. Diones was found two days later, miraculously breathing.
5. The Cecilia Masagca Story: Antipolo Massacre (Jesus Save Us!)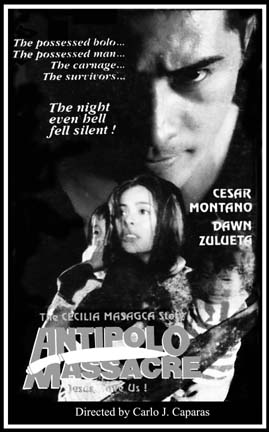 1994
By this time, you might've noticed the formula for titling massacre films.
So, with the success of The Vizconde Massacre Story, Caparas immediately felt he had struck a film trend. Unfortunately, massacres aren't as often as film releases.
Then, something strange happened in December 1993. In the quiet Sitio Kulasisi, Antipolo, Winifredo Masagca hacked 5 people with a bolo. His defense was that the bolo was possessed and this became the crux of the film. Telling the story through his wife Cecilia's point of view, the film narrated the struggle she had to save her husband from his demonic bolo and from committing a murder. Of course, the bolo had to win to stay true to the facts.
But save from the other terrible aspects of the film, Cesar Montano and Dawn Zulueta, who played Winifredo and Cecilia, respectively, gave justice to the characters with their decent performances.