North vs. South: Commuter Woes

By 8List

The saga of people living in the north and the south seems to never cease. From who has the more good looking guys to which is the more happening side of the metro to who got the better hole-in-the-wall restaurants, the conversation continues. Now, let's talk about commuting and its many buwis buhay travails!
Jeepneys

South: We don't do jeepneys. Can you even imagine surviving in this heat we are swathed in right now? It's a freaking sauna out there. Thankfully, we have air conditioned FX shuttles down south that can takes us to any point—hanging out in the next village or catching a movie at SM BF.
North: Take your pick. This is our bread and butter. Jeepney-riding is probably a skill that is taught to all northern dwellers. Biyaheng Montalban, Antipolo, or Cogeo ba kamo? Taking those trips will make a man out of you—not to mention the heart-pounding power ballads playlist they max up using a makeshift disk player. Just be careful when you hang on at the back and please, pay the fare—let's cut it out with the 1-2-3s—so, yes, just pull 'd string 2 stop!
Commuting to Work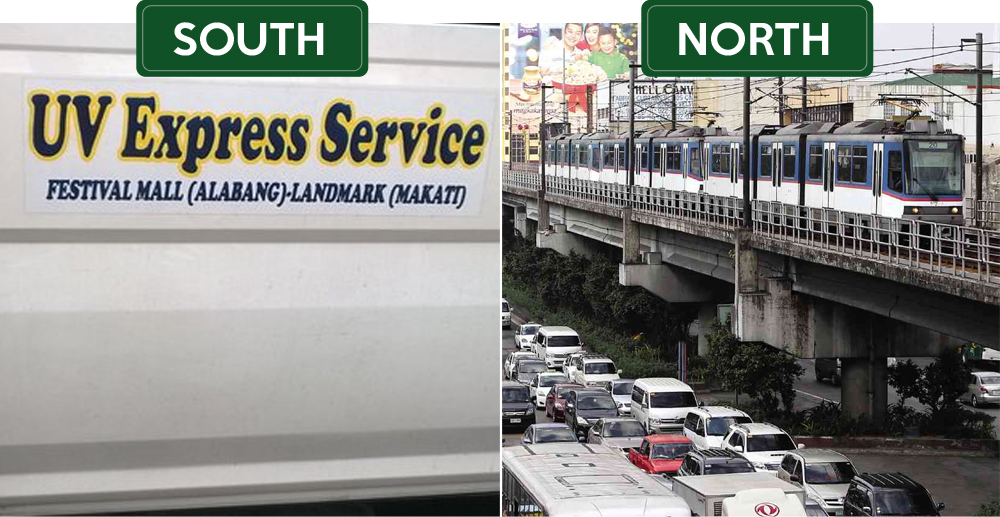 South: For people like me who live down south but hold office in Makati, we only live by two words: UV Express. Nothing is a more efficient, albeit cramped, mode of transportation. It defeats the government-subsidized modes of transportation that other parts of Metro Manila enjoy or suffer from. And oh, we don't pass through EDSA—we just choose between the Skyway and the South Luzon Expressway to get to work
North: The province of Ortigas-based? The Province of Makati-based? The Province of Manila-Based? Dude, commuting to work is like commuting to the province, yes? The northern mantra is "ride anything if it gets you there."
Commuting Home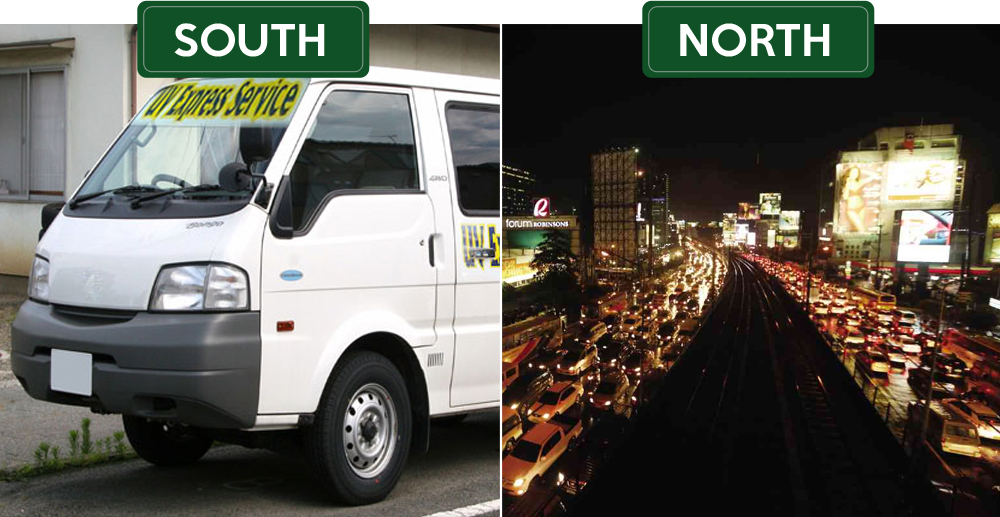 South: We go to work taking the UV Express and the same efficient method brings us back home. Our shuttles take the expressway so we skip the long queues.
North: Kahit ano nang sakyan basta't makauwi. Trapik naman sa lahat pabalik ng north eh. Bwiset!
UV Express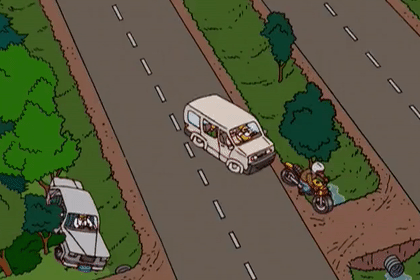 South: As mentioned above, this is the primary mode of commute in the south. We don't have that much support from government, you see. The ever-reliable drivers and barkers of the UV Express have mastered the art of swiftly delivering people to and from work. Oh, they are also great in coordinating their movements on the road, much to the disdain of the private vehicles.
North: We are forever grateful, as we are but patients being delivered to the ER (our destinations) with them ambulance-esque-driver-wanna-bes, weaving through Fury Road and more. In contrast to the dismay of private vehicle drivers, our salary deductions—due to tardiness—solely depend on these Mad Max's of Manila.
Trains
South: We only have the sketchy PNR train that's reminiscent of the horror trains during school fair.
North: Let us put emphasis on "horror stories" and a little dash of Houdini magic for the occasional stroll along the elevated train tracks during rush hour, and just stop. Oh, MRT, how we love to hate you but we can never get over you.
Airport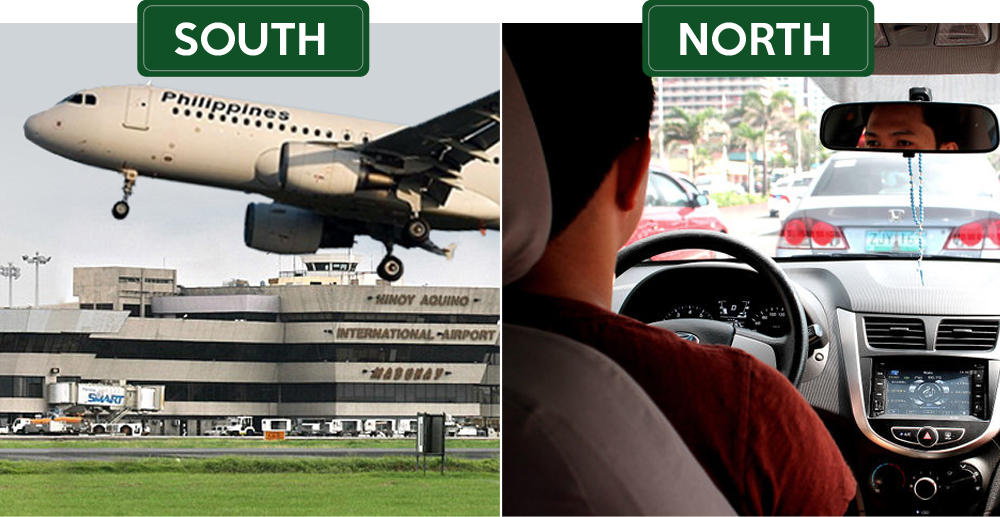 South: Ha! This is like in our backyard. We can leave the house and hop in a cab two hours before our flight and get to the airport in like 15 minutes max. And yeah, we prefer flying out of Metro Manila during long weekends than braving the Northern provinces and risk getting stuck on the expressways for half the day.
North: Oh, so you have an early flight… WHAT THE ACTUAL FUCK, RIGHT!? Just bring the damn airports to the northern provinces, please!
OT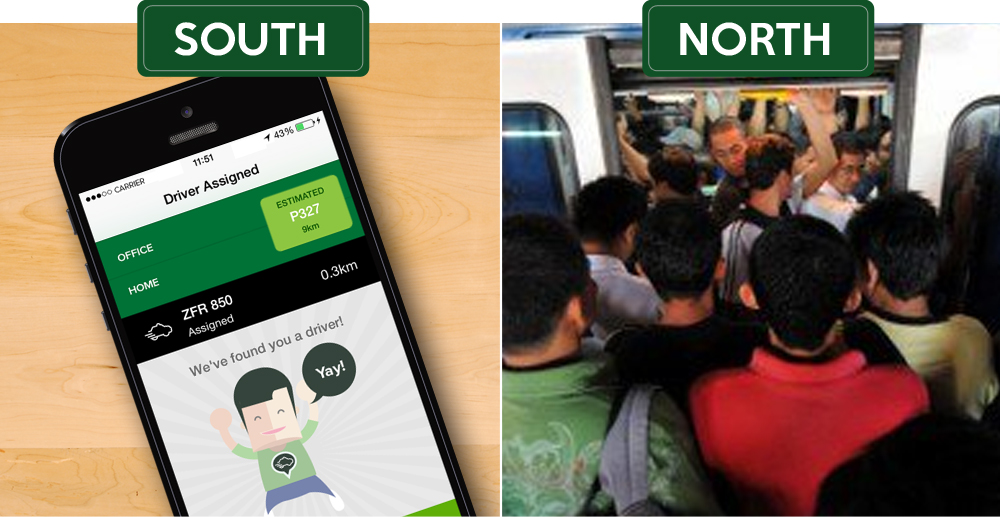 South:
The last shuttle leaves Makati at around midnight, so that's the max when it comes to our overtime. But should work really demand it, there's always Uber, Grab, and the regular cabs. And there's still another way of commuting: the buses that cruise along EDSA and stop at each of the Skyway exits.
North: OT? Well, there's the last MRT train home at around 10:30pm or the buses you hate, the shabu-induced UV drivers (no offense, it's just that it seems like they never sleep). Better yet, just stay where you are, grab a couple of bottles, and wait until traffic subsides (about .0001%) early in the morning 'til you're finally homebound.
Rainy Season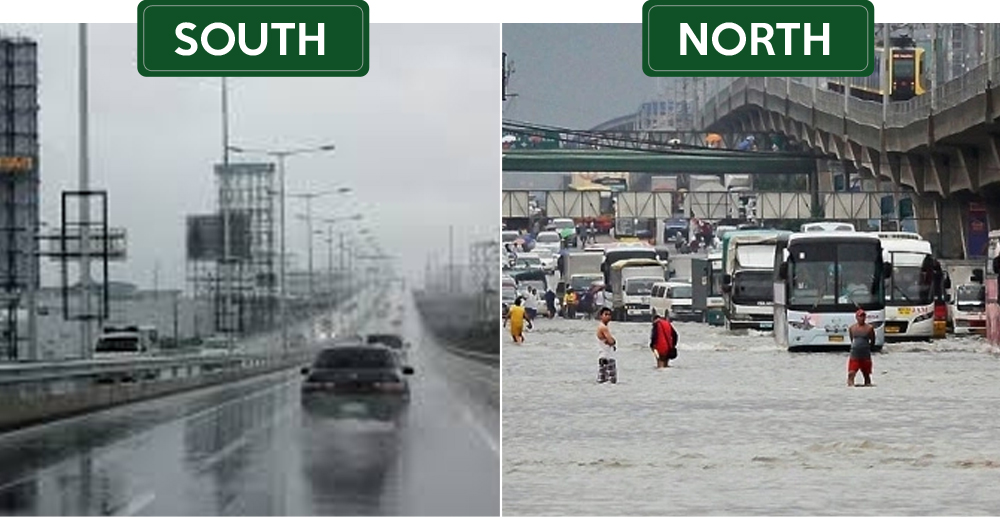 South: The hot season is almost over and the rainy season is expected to be worse than ever, which means commuting can be quite hellish. At least on my side of town, we don't experience floods and the UV Express takes the Skyway to escape from the wrath of flood waters.
North: Just wait and see. We've been saving up for those amphibian vehicles you once saw online. Well, in our dreams, at least. What else is new? This is the final stage in the buwis buhay training program just to get to wherever it is you're going. Bring it!
The take aways: people from both North and South go through their own Calvary when commuting. It's also a given that it's harder to commute to and from the south as most transportation networks are connected to the north. Thus, it can be concluded that northerners are more used to buwis buhay commutes, although of course, they also do appreciate the (buwis buhay) efforts of their southern counterparts. ;)
What are the commuter woes from your end of the Metro? Misery loves company—sound off in the comments below!