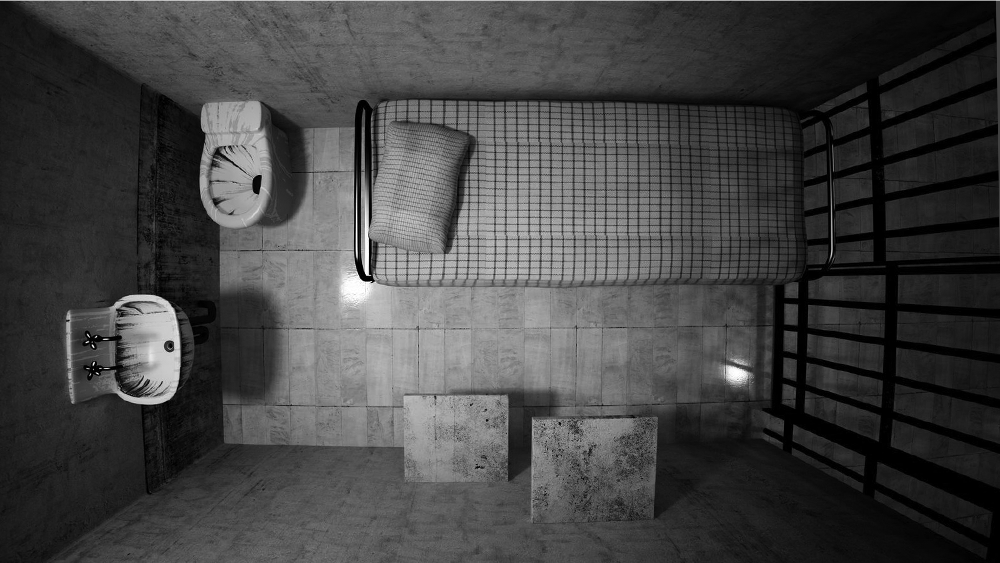 Bilibid or Not:
8 Prison Movies to See Before You Die
By Mikhail Lecaros

There was something fishy about the prison riot in Bilibid that killed high-profile inmate Tony Co, a convicted drug lord. The incident also injured fellow drug lords Jaybee Sebastian, Peter Co and Vicente Sy.
We'd all be fools to expect to find out the truth of what really happened on that day. So, instead, we take a look at some of the greatest films ever to take place behind bars. Some of which contain possible conspiracy-theories wherein we could draw our own conclusions on what actually happened to Tony Co and company.
8. Caged Heat aka Renegade Girls (1974)
"That show of yours last night was positively disgusting. Given the chance to express yourselves you went straight to the gutter. Even for criminals you're just a particularly poor reflection on womanhood.
Far from the first "women in prison" exploitation flick, but certainly one of the most influential, director Jonathan Demme's (The Silence of the Lambs) Caged Heat is about a wrongfully accused woman who bands together with other inmates to contend with life under a sadistic warden. Not for the squeamish, this is a down and dirty grindhouse flick (replete with all the copious violence and nudity you'd expect) all the way, but what sets it apart is its surprisingly empowering feminist message. Seeing as Demme would go on to make Academy Award-winning fare such as 1993's Philadelphia (for which Tom Hanks would win his first Oscar for acting), Caged Heat makes a fascinating case for not letting a single film define one's career.
7. Cool Hand Luke (1967)
"What we have here is a failure to communicate"
An iconic piece of Hollywood cinema, Cool Hand Luke cemented Paul Newman's place in the Hollywood firmament (The Sting, Cars). Newman played the titular Luke, a man sentenced to a Florida prison work camp who refuses to conform to the brutal captain's (character actor Strother Martin) administration. Coolly defiant at every turn, Luke makes every effort to escape and frustrate his captors, winning over the support of his fellow inmates with his antics, including a classic scene where he has to eat 50 hard-boiled eggs in an hour. Newman was nominated for an Academy Award that year, and became an anti-establishment icon in addition to a fully-fledged leading man, but it would be co-star George Kennedy (The Naked Gun) who ultimately took home an Oscar for his supporting role as prisoner gang leader Dragline.
6. The Great Escape (1963)
"We have, in effect, put all our rotten eggs in one basket. And we intend to watch this basket carefully"
Boasting a bevy of the sixties' most popular stars, The Great Escape is an epic adaptation of a real life mass escape attempt from notorious German prisoner of war camp Stalag Luft III. The film has everything you'd expect from a great prison movie: likable inmates of different backgrounds (armies, in this case), a sadistic camp administrator, and heart stopping moments of suspense during the titular breakout attempt. The impossibly, effortlessly cool Steve McQueen (The Magnificent Seven, Bullitt) led the powerhouse cast, which included the likes of James Garner (Maverick, The Notebook), Richard Attenborough (Jurassic Park, Gandhi), and Donald Pleasence (You Only Live Twice, Halloween)
5. Kiss of the Spider Woman (1985)
"The nicest thing about feeling happy is that you think you'll never be unhappy again."
Before he was or making life miserable for the Avengers as General Thunderbolt Ross (in The Incredible Hulk and Civil War), William Hurt won Best Actor nods from the Academy Awards, Cannes Film Festival, and BAFTA for his turn as Luis Molina, a gay man jailed for sleeping with an underage boy. The film follows his burgeoning friendship with Valentin (The Addams' Family's Raul Julia), a leftist being held until he divulges the identities of his fellow revolutionaries. What follows is a brilliantly acted character study in love, loyalty, and tragedy.
4. Hunger (2008)
"I have my belief, and in all its simplicity that is the most powerful thing."
An unflinching take at defiance and conviction by that other Steve McQueen (Shame) to appear on this list (a director this time), frequent collaborator Michael Fassbender (12 Years a Slave) stars as convicted IRA activist Bobby Sands, who was elected to Parliament while incarcerated and famously staged a hunger strike to demand the return of his and his fellow inmates' rights as political prisoners, ultimately dying after 66 days of defiance. Gorgeously lensed, the film won that year's Camera d'Or at the Cannes Film Festival, and made a star of Fassbender, who committed to the role by losing 42 lbs. to portray the emaciated Sands.
3. On the Job (2013)
"Madaling pumatay pag may rason, pag may pinanggalingan…Ang pagsaksak ay mahirap, malapitan. Ramdam mo ang pagpasok ng blade sa laman. Kita mo ng malapitan ang sakit sa mata ng biktima mo."
With the bulk of our national headlines currently revolving around corruption scandals at the highest strata of government, it would seem that the plot of On the Job has become increasingly relevant—if not outright prescient—in a roundabout sort of way. At any rate, Joel Torre's turn as a prison inmate who moonlights as a hitman-for-hire is chilling as directed by Erik Matti (Tiktik: The Aswang Chronicles) in his trademark pull-no-punches style. The supporting cast, including mainstream actors Joey Marquez, Gerald Anderson, and Piolo Pascual, turn in uniformly superb performances.
2. Bronson (2008)
"How would you feel waking up in the morning without a window? My window is a steel grid. I have to put my lips against that steel grid and suck in air…that's my morning."
Bronson is about "Britain's most violent prisoner", Michael Gordon Peterson, a man known for spending nearly his entire adult life in prison and doing 2,500 push-ups a day to keep in shape. In the lead role, Tom Hardy (Inception) is virtually unrecognizable under director Nicolas Winding Refn (Drive), delivering a tour de force with a surprising amount of humor. Famously, the actor disappeared into the role, putting on 42 lbs. of muscle (completely the opposite of what Fassbender did in number 4) and going full method, to the point of wearing the real-life Bronson's mustache after the latter shaved it off upon being impressed by Hardy's performance.
1. The Shawshank Redemption (1994)
"I believe in two things: discipline and the Bible. Here you'll receive both. Put your trust in the Lord; your ass belongs to me. Welcome to Shawshank."
A Frank Darabont (once again adapting a Stephen King story) film starring Tim Robbins (Dead Man Walking) and Morgan Freeman (Million Dollar Baby), The Shawshank Redemption is a story about the power of faith and friendship in impossible circumstances, and rightfully recognized as one of the greatest films of all time. But this wasn't always the case: despite critical acclaim and seven Academy Award nominations upon release, the film was underappreciated by audiences during its theatrical run, only finding its audience through repeated cable TV screenings and positive word of mouth powering home video (yes, that was a thing back in the day) sales and rentals. Trust us, this is a flick well worth checking out.
Got any more to add to this list? Do tell us about them in the comments section!