TV Shows that Deserve
a PH Version

by Abu Poblete
Don't you just envy  foreign reality shows that are, well, much better than what we have? You know the Philippines will love other more exciting  TV fare than Survivor Philippines, The Voice Philippines, or Deal or No Deal. GMA 7 has shown the way with its Pinoy counterpart of Lip Sync Battle.
Here's a reminder to all TV networks: Pinoys loved exciting and unique reality shows like Pinoy Fear Factor, Takeshi's Castle, and Extra Challenge. Don't shy away from bizarre entertainment. Here are 8 of the many really weird hits that will surely pull in ratings.
8. Rupaul's Drag Race
How it goes: For those in the dark, Rupaul's Drag Race is a reality show by Logo that's a cross between Project Runway and America's Next Top Model. But here's the catch, the contestants are (drum roll with glitters thrown around, please) drag queens! Yeah you read it right, drag freakin' queens fiercely battle it out in every episode to become America's next drag superstar. Through the show's mini and major challenges, the personality and drag designing skills of contestants are put to the test. But really, it's the outrageously sassy cat fights between the country's best drag queens that makes the show one of America's guiltiest pleasures.
Why a Pinoy version is a good idea: With our creativity and beki language, Pinoy Drag Race will create a sequined pandemonium.
The show's script will be filled with lines like "Ayyy ateng, Pagoda Wave Lotion naako sa Lucresia Kasilag na iteng! Pero keri boom boom pow kasi mukha naman siyang chimney cricket kesa 'kin! Kaloka!!" Even Rupaul's dreaded eliminator line "Sashay away" will be translated as, "Atey, away!" "Kung 'di ka enlababo sa sarili, how mo naman la lavida loca ang ibey?!?" Jon Santos can really hit the mark here.
7. Cheaters
How it goes: Crime stakeouts are fine spying on a cheating mateis just a LOT more riveting.This is exactly what Cheaters is all about,but with a little more pizzazz: it's real and it's on TV. The show's full of manic lovers who just want to take revenge on their cheating partners. What better way than to cruelly shame on worldwide TV?
Why a Pinoy version is a good idea: Pinoys love the juicy and controversial trope of two-timers in their daily TV sessions. This is because in our boring lives, we get a kick from watching hot women bitch-slap each other.
6. Dero!
How it goes: Dero! runs on a very simple recipe:  take a bunch of clueless game contestants and scare them out of their wits. The fear-induced dementia is produced by having the hapless victims answer random trivia questions while simultaneously suffering unnerving torments, like: being tipped over at a 90-degree angle; getting spun into a cocoon of toilet paper or being slowly pinned to a corner by a retracting floor.
The brilliant combination of hilarity and sheer fright is guaranteed to warm any sadistic heart.
Why a Pinoy version is a good idea: Because seeing mindless terror in others  is just what we need to for us to LMFAO.
Dero! is even a milder version of the other  Japanese shock-gag shows.Filipino TV can typically overdo them.
5. Running Man
How it goes: Running Man's seven members go everywhere and anywhere in Korea to do physical dares, mental stunts and they're all outrageously awesome, like their legendary name tag challenge, face-off cream bombs, face blowers, the Tru-Gary show, among others.
RM has been one of Korea's best variety shows. The show sounds really basic, but what's special about it is its diverse cast and the running inside jokes that are so funny that you get in on them soon enough. RM also takes in celebrity guests who get mercilessly tricked and roasted. And can we just have a moment of silence for the awesomeness that is Yoo Jae Suk?!
There is nothing more intense than the name tag challenge.
Why a Pinoy version is a good idea: It's going to be hard to find the same perfect mix and chemistry as the original seven members especially since the Pinoy masa humor is really different from Korea's. But if someone's willing to search the entire country just for the perfect mix, RM will definitely take local variety to a whole different level.

4. Downtown no Gaki no Tsukai ya Arahende!!
How it goes: If The Joker ever conceives a TV show, this would be it. Downtown no Gaki no Tsukaiya Arahende!! contrives on to test its contestants' the patience, self-control and capacity for self-humiliation—to perverted extremes.
In the "No laughing" Batsu Games, for example, contestants must keep from laughing while enduring comically ridiculous set ups. Some of them are impossible to unsee: like eating marshmallows under time pressure while straining against a rubber band wrapped around one's face; or having someone's naked butt quashed against one's face. You never quite know whether you're laughing out of nervous pity or sheer WTF feels.
Why a Pinoy version is a good idea: Because we know Pinoys are much weirder than the Japs (or probably not… Because they come up with the weirdest shit ever).
Like this game
and this game.
3. The 1900 House
How it goes: This show literally took throwback to a different level. Out of 400 families, one family was made to live like they were in the tail-end of the Victorian era—as in living in a house built in the 1890s all with a safety room, telephone, scullery and a washer but without anything from the modern age like electricity, insulation and heating.

Why a Pinoy version is a good idea: Pinoys are sort of stuck in the 1800's too. We're still pretty much colonial-minded.  Our traffic and internet move like a carabao in a mud-wallow. And a lot of our cops still strut like guardias civiles. We'd be right at home in The 1900 House.
2. Canada's Worst Driver
How it goes: The title says it all, this show is all about finding the next worst driver of Canada and that's a title you really wouldn't want to get. The show rounds up 8 really bad drivers and challenges them on every episode with different obstacles to conquer or bungle through. Otherwise their licenses (confiscated at the beginning of the show) will not be given back to them.
In each episode, one contestant is "released" from the competition if he succeeds in the challenges and has proven that he's learned something about non-lethal driving. At the end of every season, the final three bad drivers will battle it out for the distinction of being the worst.
Why a Pinoy version is a good idea: We have no lack of motorized imbeciles.  (like this guy or this guy).  Bring on your worst, Canada.  Philippines is hell on wheels.
1. Dadagiri
How it goes: Dadagiri is just like any game. They take in contestants willing to do difficult challenges until the one to survive all of them becomes the winner. The unique thing with Dadagiri is that the contestants don't have to go through any kind of physical ordeal. Instead, it's an excruciating mental and verbal abuse from the show's bullies.
The show hires real, serious bullies whose sole talent is to rip into people and reduce them to pathetic, tearful wrecks. A lot like Lee Ermey as Marine drill sergeant on first day of boot Camp in Full Metal Jacket, but with much more extreme prejudice. Not surprisingly, it gets out of hand. One bully, Isha the goddess, was so into it that she suddenly slapped a contestant without thinking. The contestant then slapped her back and asked for a public apology from the producers.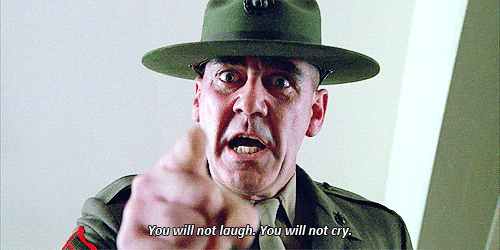 via imoviewquotes.com
Why a Pinoy version is a good idea: Filipinos are just as into bullying as any other folk.  The problem is, when the shoe is on the other foot, we're pikon. We instantly escalate the matter to the level of "bigotry" and "paninira" to "denial of freedom of speech." For a Pinoy Dadagiri, we open with a free-for-all among Manny Pacquiao, Vice Ganda, Cathy Garcia Molina and the entire 2016 batch of UPLB. Imagine that. The  idea of bullying with consent might just be the best thing that could happen to Filipino TV.
Think we're ready for drag queens to dominate our televisions? Sound off in the comments below!