UP Fair 2018:
A Quick Guide
By Therese Aseoche

There's absolutely no way you could let UP Fair pass this year without attending a single night's performance. It's the one place where you can jam to music of local rock legends and indie crowd faves while screaming at the top of your lungs on thrilling rides or snacking away at the multitude of food stalls. No matter who you are — whether you're a student, alumni, or faithful attendee — you're always welcome to rock out and have fun with the community!
Here's a quick guide on how to have the best UP Fair 2018 experience!
Decide which UP Fair Night to go to
[UPDATE NO. 3] #UPFair2018 LINEUP AS OF 01/28/17 9:45PM!!!

Btw my org (@upckt) is selling tickets for FLAMES (Feb 14, Wed). DM me for inquiries!!

PS. 'la pa rin akong jowa, so pweds din DM na lang wahahAHAHAHAHA pic.twitter.com/dNPwcSQ1Jq

— Levin Frias ✊ (@_levinf) January 28, 2018
No UP Fair Night is the same. Organized by different handlers (UPD-based organizations), each night highlights different advocacies and different line up of bands, the complete list of which you can see at the tweet above. You should also check out the individual Facebook pages of each night for more information:
February 13 – REV Music Festival: UP Fair Tuesday
February 14 – UP Fair 2018: Flames
February 15 – Elements: UP Fair Thursday
February 16 – Cosmos: UP Fair Friday
February 17 – Roots Music Festival
Get your tickets ASAP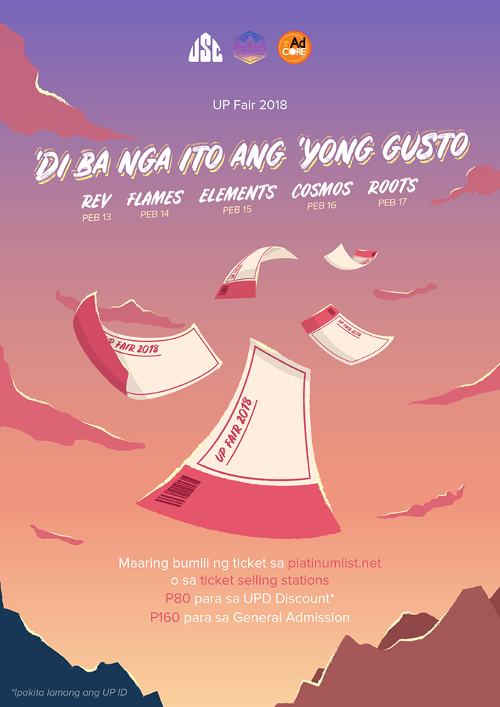 Tickets are selling fast so you gotta grab yours ASAP! UPD Students, faculty, and staff with validated IDs can buy tickets for PHP 80 at booths around the campus while outsiders can purchase the "general admission" tickets for PHP 160.
Outsiders can also conveniently purchase tickets online through these links:
February 13 – platinumlist.net/rev
February 14 – platinumlist.net/flames
February 15 – platinumlist.net/elements
February 16 – platinumlist.net/cosmos
February 17 – platinumlist.net/roots
Inform yourself of the different advocacies of UP Fair 2018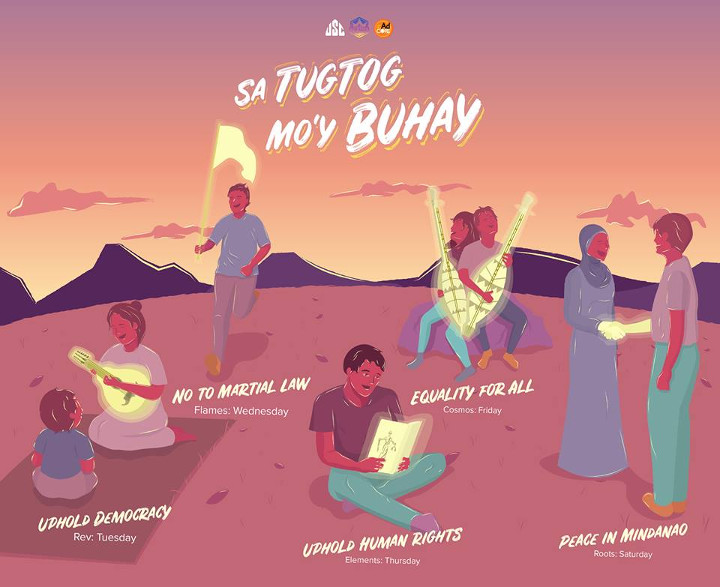 UP Fair has always put specific advocacies into the limelight per night, and this year it's geared towards promoting equality, peace, and freedom among Filipinos amidst the violence and injustice that pervades our society.
REV, organized by Sigma Kappa Pi and Sigma Delta Pi aims to highlight the importance of upholding democracy, Flames by UP Babaylan  rallies against Martial Law, and Elements by UP JPIA continues the fight for Human Rights. Cosmos by UP JMA promotes equality for all, while Roots by UP EcoSoc and UP Underground Music Community stands for peace in Mindanao.
Every night you can play the Advocacy Scavenger Hunt too and talk to different NGOs or make donations and pledges on-site which gives you a chance to win raffle prizes!
Be there early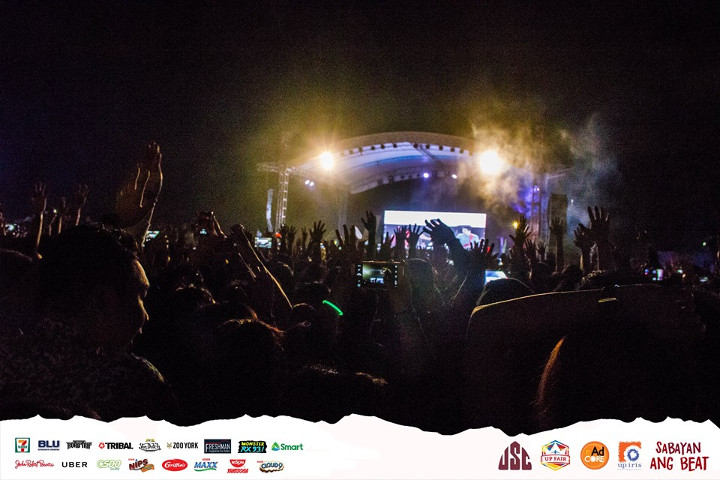 We're not kidding when we say that the lines going into UP Fair grounds get so crazy every night. Even if you arrive "on time" (that is to say, when gates open), you'll find yourself walking all the way to Palma Hall steps (a 5-minute leisurely stroll away) and wasting all your time queueing. So trust us: fall in line early!