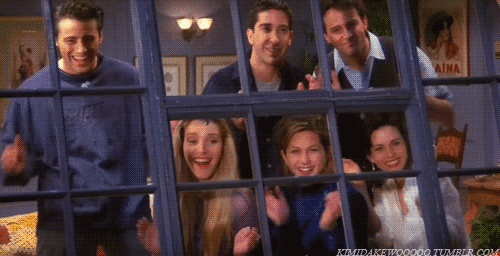 8 Must-Watch
FRIENDS
Episodes
By Kyzia Maramara

Who doesn't love this TV show? Each episode will make you laugh your heart out at the hilarious conversations but there are a few that stand out the most. If you're one of the very few people who haven't watched this series (then why haven't you?!) here's a list of episodes you can binge-watch to get you started.
The One With The Cop (Season 5 Episode 16)
Ross goes couch shopping for his apartment and enlists the help of Rachel and Chandler in bringing it up the stairs. The hilarity of the PIVOT scene as they maneuver the couch on the stairs is one that Friends fans will never forget. Especially when the cast themselves found the scene so funny, they had to retake multiple times.
The One Where No One's Ready (Season 3 Episode 2)
This episode only had one setting (Monica's living room) but it's one of the greatest episodes – well, the greatest or the most annoying, you decide. Ross invites his friends for an event at the museum and they should be leaving in 30 minutes but nobody's ready. Chandler and Joey get in a fight over who should sit on the chair and goes at extreme lengths to annoy each other.
The One With the Prom Video (Season 2 Episode 14)
Ross and Monica's parents send Monica a box of her old stuff including a tape of Monica and Rachel preparing for prom which the friends decided to watch even though Ross objected. The video showed fat Monica and large nosed Rachel, the latter having apparently been ditched by her prom date. Upon the insistence of his mother, Ross gets dressed and gets ready to take Rachel to prom but before she finds out, her date suddenly shows up. As present day Rachel watches this, she kisses Ross and forgives him for what happened between them.
The One With Ross's Wedding (Season 4 Episode 23/24)
The friends fly to London for Ross' wedding with the exception of the pregnant Phoebe and Rachel who declined. Things go awry when Ross discovers that their wedding site is being repaired ahead of schedule. Still, they make things work and plan to go on with the wedding. Back at home, Rachel realizes she still has feelings for Ross and decides to fly to London to tell him. Meanwhile, Chandler and Monica shockingly end up in bed together.