Healthy Fast Food Joints
Your Body and Schedule Will Love
By Shen Mascariñas

When you're stressed AF and too busy to eat three times a day at the right time, the urge to order from one of the many fast food chains gets almost irresistible. You know #RAGRET will follow after, though—if not immediately, then several pounds after. So why keep doing it?
We've all heard the excuses lack of time, money and better choices. But, earth to you, honey—the metro's dining scene has evolved with plenty of room for healthy fast food joints. Yes, you can now enjoy wholesome, nutritious meals without the absurd bill and waiting time. In fact, here are 8!
Moxy
GF Alphaland Makati Place, Ayala Avenue Extension cor Malugay St., Bel-Air, Makati
0945 154 8144 | Facebook | Website
Open daily from 10am to 9pm
Budget for two – P500
Moxy is inspired by travels in Spain, London, and LA—particularly, these places' wealthy supply of convenient, wholesome eats. The founders merged those worldly flavors with local, organic ingredients, and the results are utterly delicious. Try their tasty hot boxes, salads and pita pockets!
SaladStop!
Locate the branch nearest you here | Facebook | Website
Budget for two – P850
There are over 35 ingredients and 18 dressings you can get creative with at SaladStop! And as if that's not shaking things up enough, they even feature a new creation every month. For those who don't have the time to concoct the salad/wrap of their dreams, there's also a fantastic selection of signature dishes like the Oh Crab Lah, Big Bird, and Hail Caesar.
Faburrito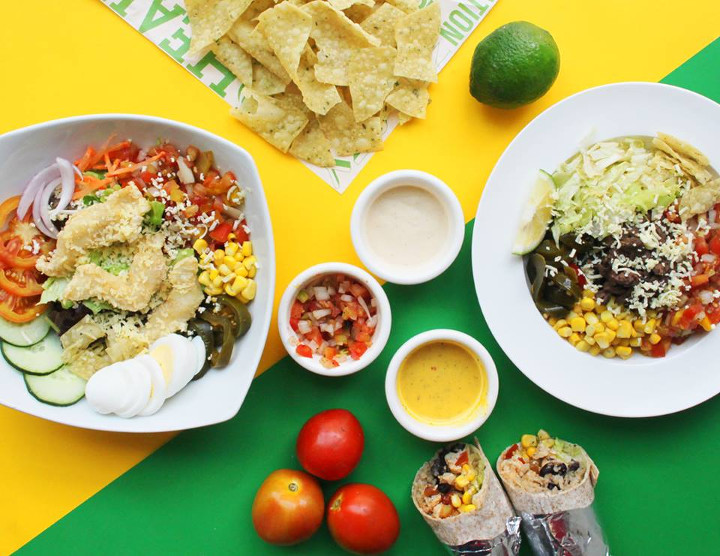 Locate the branch nearest you here | Facebook | Website
Budget for two – P600
Faburrito lets you enjoy Mexican comfort food without the guilt. They've removed the junk and kept all the satisfying flavor in Mexican staples like burritos, tacos, quesadillas and more. Brown rice takes the place of white rice, for example, and the salad greens are more abundant. For their mains, choose from six kinds of meat and three kinds of forms.
Berde Bowls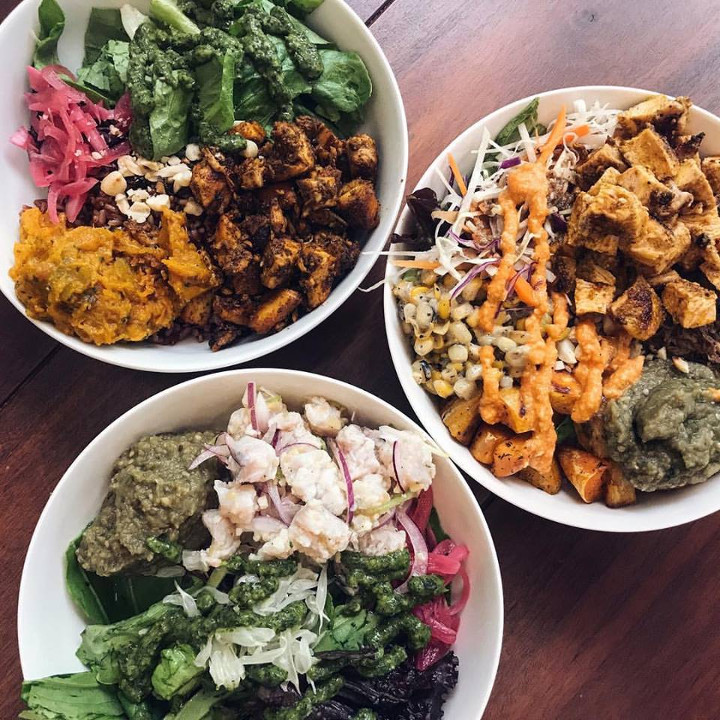 Ayala Triangle Gardens, Paseo de Roxas Street, Salcedo Village, Makati
(02) 728 5046 | Facebook
Open daily from 11am to 10pm
Budget for two – P700
Ever seen those beautiful bowls of perfectly balanced greens, grains, protein and sauce on Instagram? You no longer have to stop at virtual tapping. Head to Berde Bowls for those healthy and filling bowls, featuring Pinoy dishes like mushroom monggo, gising-gising, tuna kinilaw and more.
They have five signature bowls for when you don't have time to pick ingredients, but you should definitely try creating your own. Choose from four bases, five proteins, six vegetables and 12 toppings.